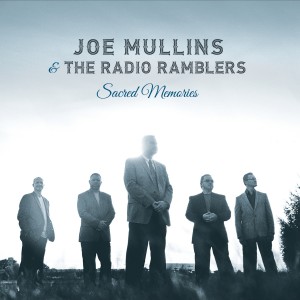 Joe Mullins & The RadioRamblers are pleased to announce the release of a second single from their critically acclaimed album, Sacred Memories. The title track features special guests Ricky Skaggs and Sharon White Skaggs, and is the latest focus track for radio programmers.
The album was initially released last spring and instantly reached the #5 on Billboard's Top Selling Bluegrass Albums chart (May 2016), becoming a huge hit with bluegrass and gospel music fans.  The first single, "All Dressed Up," was so well received that it won the International Bluegrass Music Association's (IBMA) Gospel Recorded Performance of the Year for 2016 and is still in the Top 10 nationwide despite being released over a year ago. Joe Mullins & The Radio Ramblers and Rebel Records are excited to followup that success with a second single, the title track, "Sacred Memories."
"I am so thankful that our band's second, all gospel recording has been so well received," says Mullins. "My faith runs even deeper than my lifelong love of quality Bluegrass gospel songs and recordings. So when we select songs and produce a gospel album, we hope the music will be 'soul food' for sure! I think something soul-stirring can be accomplished when Dolly Parton writes a sacred song AND Ricky Skaggs and Sharon White Skaggs help sing it. Dolly put this song together in the 1970's and it was the flip side of a hit single. The song was perfect for a collaboration and needed male and female voices. Ricky and Sharon have been dear friends and mentors for me in so many ways, and they always sing from the heart. So I sing the first verse, then Ricky and I sing a duet. Ricky and Sharon each sing a verse and lead the quartet when Radio Ramblers' Mike Terry and Randy Barnes join them. We really go to church when we create an entire choir, with Charli Robertson and Kelsi Harrigill of Flatt Lonesome, adding harmony with all the Radio Ramblers and the Skaggs'! Hallelujah!"
"Sacred Memories" as well as the entire album are available to radio programmers via 
AirplayDirect
 and to consumers for digital download at 
iTunes
 and 
Amazon
. For more information on Joe Mullins & The Radio Ramblers including upcoming performances, please visit 
www.radioramblers.com
.
About Joe Mullins & The Radio Ramblers
No matter the source, Joe Mullins & The Radio Ramblers always put their distinctive stamp on a song, making it at once their own and a part of the chain of tradition that lies at the heart of bluegrass. JMRR's professionalism and successful, heavily played recordings have kept them in demand with a national audience. Joe Mullins & The Radio Ramblers have been seen by thousands of fans across the continent through performances at a vast array of venues including the National Folk Festival, Bluegrass Underground, Bluegrass Nights at the Ryman, and regular guest appearances on the Grand Ole Opry. Mullins' is a favorite broadcaster in Bluegrass, on radio over 30 years in the Midwest. He also hosts "Front Porch Fellowship," syndicated on air each week in 30 states and Canada to over 200 radio stations and to thousands of internet listeners.
 ###