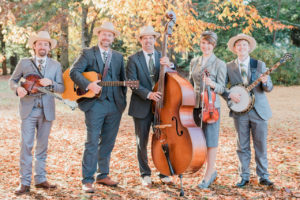 Carolina Blue is proud to announce they have partnered with Kimberly Williams and East Public Relations (EPR) for exclusive publicity representation effective immediately. 
"There comes a point in your career as an artist where a good publicist is a necessity," says Carolina Blue's Bobby Powell. "When it comes to bluegrass publicity, there is none better than Kimberly Williams. We are thrilled to have her as part of the Carolina Blue team and look forward to what she brings to the table for us!" Carolina Blue's co-founder Timmy Jones adds, "Since the inception of Carolina Blue, my wife Lakin has carried us in our career by handling all aspects of booking, finance, management, and promotions, and we owe her a great deal of credit and appreciation. I know I speak for her as well as the entire band when I say that we are thrilled to add Kimberly and East Public Relations to our team. With the addition of Jim Roe of Roe Entertainment for booking earlier this year, and now Kimberly, our team just got a whole lot stronger."
"I first became aware of Carolina Blue about three years ago when my husband and I heard them on satellite radio," states Williams. "Since that time, I've become such a fan of their vocal arrangements and their ability to write and perform outstanding, fresh material that works so well for their band. In getting to know them on a personal level, I've realized they are truly wonderful people with an incredible work ethic, as well. I think they are simply fantastic and I'm so honored to now be part of their team. Carolina Blue is the perfect addition to EPR's existing roster of artists and they already feel like part of the family." 
For more information on Carolina Blue including a complete tour schedule, please visit www.CarolinaBlueBand.com and for more on East Public Relations, visit www.EastPublicRelations.com. 
About Carolina Blue
Carolina Blue is a Brevard, NC based band whose roots run deep in the tradition of Bill Monroe. The band was formed in 2007 after the release of the album Nothing So Blue by Bobby Powell and Tim Jones. Carolina Blue won the South Carolina state bluegrass championship at RenoFest in 2011. They also received their first Vocal Group of The Year Nomination at the 2018 SPBGMA Awards Show. They have appeared on the hit TV show "Song Of The Mountains" as well as "The Bluegrass Trail" series on RFDTV. The band's repertoire consists of original songs, many bluegrass favorites, and gospel, too, all done in the traditional style. Their most recent Pinecastle Records release, I Hear Bluegrass Calling Me, debuted on Billboard's Top 5 Bluegrass Albums chart, has just recently made its debut on the National Bluegrass Survey's Top 15 Albums chart, and has produced their #1 hit song, "Rusty Rails." Band members are Bobby Powell on guitar and vocals, Timmy Jones on mandolin and vocals, Reese Combs on upright bass and vocals, James McDowell on banjo and vocals, as well as American and Canadian Grand Master Fiddle Champion, Aynsley Porchak on fiddle, a recipient of the 2018 International Bluegrass Music Association's Momentum Instrumentalist Award.
About East Public Relations
Established in 2005 by Kimberly Williams, East Public Relations is a full-service public relations company that works with bluegrass and acoustic music artists and events. In addition to Carolina Blue, EPR's client roster includes Russell Moore & IIIrd Tyme Out, Michael Cleveland & Flamekeeper, Joe Mullins & The Radio Ramblers, Blake Williams, and the Milan Bluegrass Festival. In an effort to shed a spotlight on the rich bluegrass heritage in her own community, Kimberly volunteers her efforts to produce and promote Liberty Square: A Lester Flatt Celebration, the IBMA's 2015 Event of the Year, held annually each October in Sparta, TN. She is a member of IBMA and SPBGMA, and is a 2012 graduate of Leadership Bluegrass.