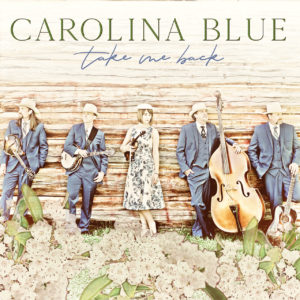 • Album Set for World Premiere on SiriusXM Bluegrass Junction August 5 
• "Too Wet To Plow" Video Premiere on Bluegrass Today Set for August 6
• Album and Second Single Available Everywhere August 7
• Album Release Concert LIVE on Facebook
Carolina Blue and Billy Blue Records are proud to announce the release of the band's debut album for the label, Take Me Back, available everywhere August 7. Nominated for the International Bluegrass Music Association's (IBMA) New Artist of the Year, Carolina Blue has perfectly encapsulated on this album, the music that has made them one of the genre's most popular bands in recent years. In the liner notes, Nashville Bluegrass Band alumni and mandolin aficionado Mike Compton stated of the band, "Their style is rooted in the past, their presentation straightforward and courageous, their performances filled with charismatic energy and a touch of modern sophistication."
Take Me Back is packed with twelve new songs – eight of which were contributed by co-founders Timmy Jones and Bobby Powell. "Grown Cold" (Powell), the album's spirited opening track and first single, has made an impressive statement including a rapid rise in just three months on the National Bluegrass Survey's Top 30 Songs chart. The achingly beautiful "Take Me To the Mountains That I Love," (Jones) the Stanley Brothers styled "Lost And Lonely," (Jones), and "Number 73987," (Powell/Jones) a song told from the perspective of Bill Monroe's infamous mandolin, are excellent examples of the wide range of creativity flowing freely from Carolina Blue. And although the band produces much of their own material, they are quick to recognize a great song from outsourced writers, as well. The second single, "Too Wet To Plow," was written by noted song-smith David Stewart and is a perfect fit for the group, as is "Country Lovin' Son Of A Gun" written by Dewitt Johnson, and the classic Osborne Brothers tune, "Blue Grass" crafted by hit writers Larry Cordle and Mike Anthony. The album is chock full of the Monroe-esque goodness the band is most recognized for and features award-winning fiddler Aynsley Porchak, James McDowell on banjo, and Reese Powell on bass.
Take Me Back will have its World Premiere Track By Track with Kyle Cantrell on SiriusXM's Bluegrass Junction on Wednesday, August 5 at 11am ET. The album will be played in its entirety accompanied by a delightful interview with all members of Carolina Blue. In addition, Bluegrass Todaywill host the Video Premiere of the band's next single, "Too Wet To Plow" on Thursday, August 6.
Take Me Back will be available Friday, August 7, 2020 on Billy Blue Records. For more information, visit www.CarolinaBlueBand.com and www.BillyBlueRecords.com.