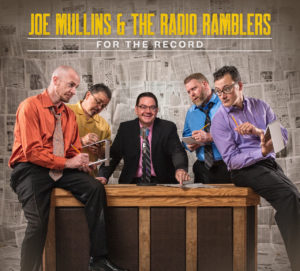 FOR THE RECORD
Joe Mullins & The Radio Ramblers  March 29, 2019  (Billy Blue Records)
JOE MULLINS & THE RADIO RAMBLERS, recently signed to Nashville's Billy Blue Records, announce the release of For The Record, a 12-song debut release on the burgeoning label.
Lead by banjo playing Bluegrass veteran Joe Mullins, the band includes a plethora of instrumental and vocal talent with Jason Barie on fiddle, Mike Terry on mandolin and vocals, Duane Sparks on guitar and vocals, and Randy Barnes on upright bass and vocals. These are true industry and fan favorites, having garnered multiple IBMA (6) and SPBGMA (4) Awards, including the 2018 IBMA Award for Song of the Year ("If I'd Have Wrote That Song").
From the hard-driving "That Old Wheel" and the fun, upbeat "Bacon In My Beans," to the emotional "A Folded Flag" and beautifully arranged, soulful vocals of "I Want To Know More About My Lord," every track on this new project is strong evidence that Joe Mullins & The Radio Ramblers remain in a class all their own, with a unique and popular brand of the finest Bluegrass music.
The first radio single, "The Guitar Song" is a duet between band leader Joe Mullins and the legendary, Grand Ole Opry member, Del McCoury. Co-written by another legend, Country Music Hall of Fame member, Bill Anderson, with award-winning songwriters, Jamey Johnson and Vicky McGehee, this version of the song, cleverly arranged by Mullins, is a conversation between two pawn shop instruments, a guitar and a banjo, hanging side-by-side on the store wall. The guitar (McCoury) and banjo (Mullins) discuss their respective Bluegrass history in the hands of some of the genre's greatest pickers and singers. This is a truly historic recording featuring two of the most popular veterans in Bluegrass music in their first-ever collaboration.
Having gained the reputation as a band that always chooses great songs, the recognizable sound of Joe Mullins & The Radio Ramblers, with their characteristically rich vocals, have exceeded that reputation, delivering another collection of wonderfully well-written songs, arranged and recorded in their inimitable style.
"I am hopeful that everyone can HEAR the fun that went into this new recording. I looked around one day and told the guys, 'We are blessed with great instruments, playing into the best microphones in Nashville, at the studio of our friend and mentor, Ricky Skaggs. How fortunate we are to have an opportunity to do what we love. Could things be any better?' And then, Del McCoury walked in to do a song with us — life is good and we are thankful." – Joe Mullins
 
FOR THE RECORD
Joe Mullins & The Radio Ramblers
March 29, 2019
(Billy Blue Records)
MEDIA CONTACTS 
FOR JOE MULLINS & THE RADIO RAMBLERS
Kimberly Williams
East Public Relations
931.808.8083
[email protected]
www.eastpublicrelations.com
 
FOR BILLY BLUE RECORDS
Claire Ratliff
Laughing Penguin Publicity
615.476.3200
[email protected]
www.penguinpublicity.com