"Reindeer Boogie" Now Available on all
Digital Streaming Services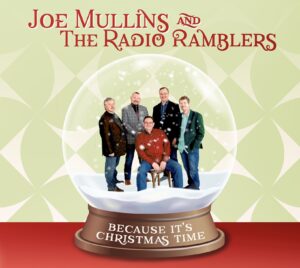 With only 80 days until Santa Claus makes his way to visit all the good little boys and girls, Joe Mullins & The Radio Ramblers are already getting in the holiday spirit with the announcement of their forthcoming album, Because It's Christmas Time, due for release on November 10th. Anxious to get the party started, Billy Blue Records is giving everyone a sneak peek with "Reindeer Boogie," available on all digital streaming services today.
With 10 bluegrass and gospel albums plus a full-length concert DVD to their credit since forming in 2006, JMRR felt it was high time to honor the many requests to release their first-ever seasonal album full of new and classic songs. "In considering a Christmas album for several years, we had to find just the right combination of songs," says Joe Mullins. "Christmas is a celebration of God's gift, our savior Christ Jesus. It's also a time to enjoy family traditions and for us, that includes music and a ton of fun!"
Because It's Christmas Time certainly reflects all the elements of the holiday spirit with classics including the title track written and first recorded by Buck Owens in 1965, Chuck Berry's "Run Run Rudolph," "Old Fashioned Christmas" from Jimmy Martin and Paul Williams, "No Room At The Inn" from Jimmie Davis and the album's first single, "The Reindeer Boogie" penned and originally recorded by Hank Snow. But as Mullins points out in the liner notes, The Radio Ramblers brought new music to the recording, too.
"Randy Barnes' late father, Earl Barnes, played any instrument and entertained at Renfro Valley, Kentucky, and throughout that region for his lifetime. Earl wrote the song 'Christmas At the Old Home Place' over 20 years ago and Randy proudly delivers it in classic Kentucky style. Adam McIntosh, his sister Angie, and their Dad, Jon, had a band called Jett's Creek a few years ago. That's when Adam and Angie wrote 'From My Broken Heart To You,' the only sad song on the album. Angie and Adam's harmonies alongside Chris Davis' delivery of this weeper was a great combination. Jason Barie provides the beautiful triple fiddles as a perfect compliment." 

"The Night Before Christmas," "The Manger" and "There Once Was A Time On Earth," remind us all the true meaning of Christmas. "Our family has been blessed to be attached to Middle Urbana Missionary Baptist Church in Springfield, Ohio," says Mullins. "One of my best friends is Mike Fultz. He has been the music leader at our church most of his life. In addition to knowing hundreds of classic hymns, Mike is a songwriter. His original song 'There Once Was A Time On Earth' tells the complete story of the greatest gift of all, and why Christ was born to die."
Because It's Christmas Time has something for everyone and serves as a reminder there is, in fact, room at the inn for all. "It's our hope people will enjoy this collection of songs every Christmas season. Together, we can laugh, cry, worship and celebrate."
Because It's Christmas Time will be released November 10th on Billy Blue Records and distributed by The Orchard and New Day Christian Distributors. Preorders are available here. "Reindeer Boogie" is available on all digital streaming services here. For more information on Joe Mullins & The Radio Ramblers, visit radioramblers.com.
Because Its Christmas Time Tour
* 11/3: Little River Bluegrass Barn, Radford, VA
* 11/4: Victory Fellowship Church, Dayton, VA
* 11/9, 10 & 11: Industrial Strength Bluegrass Festival, Wilmington, OH
* 12/2: A Bluegrass Christmas Jamboree with Authentic Unlimited,
Northeast State Community College, Blountville, TN
* 12/3: Lee Theater, Pennington Gap, VA
* 12/8: St. Mark's Lutheran Church , Bowling Green, OH
* 12/9: Ragamuffin Hall, Mifflin, PA
* 12/10: Clifton Opera House, Clifton, OH
* 12/14: The Station Inn, Nashville, TN
* 12/15: TBA
* 12/16: Carolyn Jones Gospel Singing Barn, Somerset, KY
Schedule and Ticket Information Available Here.