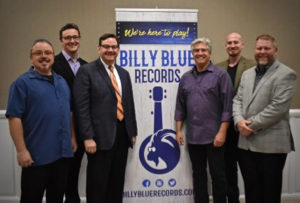 Billy Blue Records is proud to announce the addition of award-winning bluegrass group Joe Mullins & The Radio Ramblers (JMRR)to its growing roster. The announcement was made live from the stage of the Southern Ohio Indoor Music Festival in Wilmington, hosted by JMMR. 
Mullins invited Salley to the stage during JMRR's set to make the announcement, which was shared as a live stream on social media.
"As a musician, radio programmer and by having some retail and marketing experience, I became acquainted with the Daywind Corporation years ago and have always been impressed. With the passion and enthusiasm of Jerry Salley, I think this new label's future is really bright," Mullins says. "The entire Billy Blue Records team is poised to assist bluegrass artists in gaining new listeners. It's also a very unique time in how music is sold and consumed, and they are 'all in' for making certain bluegrass is in front of all types of audiences. And just like Billy Blue Records, JMRR is 'here to play'."
In making the move from Rebel Records to Billy Blue Records (an imprint of Daywind), Joe remains eager to shine a light on the great work his prior label did for the band for many years.
"I made friends with Dave and Mark Freeman and Rebel Records at age 25. I'm grateful for all of their encouragement and assistance in presenting 6 Radio Ramblers albums over the past 8 years," Mullins says, "As the oldest and one of the most respected bluegrass music labels, I am very proud of what we have accomplished together." 
Jerry Salley, Creative and A&R Director of Billy Blue Records, is eager to welcome JMRR to the label, saying "As one of the most entertaining and premier groups in bluegrass music, Joe Mullins & The Radio Ramblers is a perfect fit for our young and growing label. I've known Joe for a lot of years, and the opportunity to sign and work with him and his band is an absolute honor."