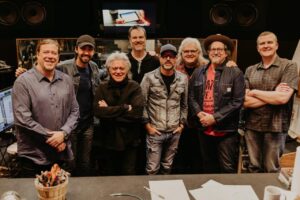 Although considered to be a rising star in the country music arena these days, Mo Pitney is quick to tell you his interest in music was first peaked with the sounds of banjos and bluegrass; especially that of the late J.D. Crowe. That interest spawned into a thriving career and the opportunity to re-create one of Crowe's classics in the most organic way possible – by accident. The result is an all-star recording of "Old Home Place" featuring the talents of Crowe, Ricky Skaggs, Marty Stuart, Jerry Douglas, Jon Randall, Aubrie Haney, Guthrie Trapp and Barry Bales, releasing everywhere Friday, February 10.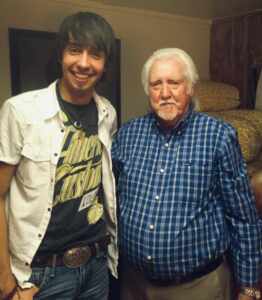 Touting J.D. Crowe and The New South as "one of the most influential music groups of his life," Pitney's reverence for the legendary banjoist and band-leader is clear. For years he'd listened to the band's records and the slew of great writers and singers who moved through the band and on to become household names: Harley Allen, Keith Whitley, Tony Rice and Skaggs among them. As a young man honing his craft, this influence was key in a burgeoning career that would eventually lead him to a record and publishing deal on a major country label, Curb Records. And while he's had much success alongside his country music peers, Pitney's passion for the music he was raised on has always remained true.
"The first time I ever heard 'Old Home Place' was on a J.D. Crowe and The New South album when I was a young kid," says Pitney. "I learned that version and would play it with my dad and my brother when we were touring Bluegrass festivals. When I was in the studio to record my current album, Ain't Lookin' Back, I started playing the song to warm up. My producer, Jim "Moose" Brown, said 'Mo, let's just play through that to get the jitters out and don't freak out when the band comes in,' and he recorded it."
Unbeknownst to Pitney, his producer played the track for Stuart who loved it so much, he expressed interest in being part of it. That lead to a conversation with Skaggs who also wanted to play on it. "From there, we decided to recreate as much of the original version as possible, and it became a compilation of my heroes playing bluegrass and country music."
The historic recording was also captured in a timeless video clearly showing the camaraderie between Pitney and his heroes through not only the music created, but in conversation and laughter.
"This track means the world to me," he continues, "and shows the evolution of the music that I want to make now, but also where I came from. I'm thankful for every opportunity I have to be able to do that."
On Thursday, February 9, Pitney will join Kyle Cantrell in-studio for the premiere of "Old Home Place" on SiriusXM Bluegrass Junction at 7am CT/8amET. At 9am CT, Pitney will appear on WSM 650AM and Circle TV for Coffee, Country & Cody. Also on Thursday, catch the premiere of the "Old Home Place" video on the Bluegrass Situation. Then on Friday, February 9 at 12noon, Pitney will visit with Suzanne Alexander on RFD-TV Live.
About Mo Pitney
Curb Records recording artist Mo Pitney received a standing ovation the very first time he performed on the iconic Grand Ole Opry stage. Named an "Artist To Watch" by Rolling Stone, Billboard and The Bobby Bones Show, Pitney has amassed over 36 million streams since the release of his autobiographical debut, Behind This Guitar. The Illinois-native leans on the influences of traditional country and bluegrass stalwarts like Ray Price, Buck Owens, Roger Miller, Merle Haggard, Keith Whitley, Ricky Skaggs and J.D. Crowe. His original song, "Ain't Bad for a Good Ol' Boy," was featured on The Ranch (A Netflix Original Series Official Soundtrack). His sophomore LP, Ain't Lookin' Back, is available now.