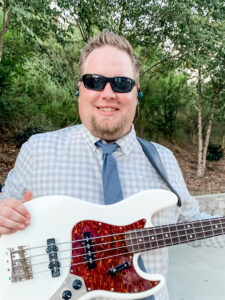 One of Bluegrass music's most awarded bands, Russell Moore & IIIrd Tyme Out, are heading into the 2021 touring season and their 30th Anniversary with a new member, Kevin McKinnon on bass. McKinnon replaces Dustin Pyrtle who has performed with the band since 2018.
The pandemic of 2020 has effected everyone on some level and has created a lot of opportunity for traveling musicians to spend more time at home than ever before. Such is the case with Dustin who has decided to leave touring life behind in favor of staying home during his young son's most formative years of growth. "A few months ago Dustin told us of his need to leave the position of bass player and harmony singer for the band," says Russell Moore. "Dustin is a great talent and he will be greatly missed. I applaud his decision to stop touring and stay closer to home so that he can spend more time with his son, Houston. Even though we were all saddened with his announcement, I would have been disappointed if he had decided otherwise and we all wish him and his son the best going forward."
When Dustin delivered his resignation to Russell, the band leader was relieved of some of the pressures of seeking a replacement because of the pandemic. "With so many of our shows being cancelled, I was afforded the opportunity to take my time and really consider the type of player and person I wanted in that role moving forward. I've known Kevin McKinnon for years and his brother Keith is our banjo player. Honestly, when Keith told me his brother was interested in auditioning, I held off on scheduling other auditions. Something just kept telling me this was the route we needed to go." And it turns out his instincts were correct. "The entire band got together and had two days of intense eight-hour rehearsals. Kevin fit like a glove. He is so intuitive with his playing and because he literally grew up listening to IIIrd Tyme Out music, I was just reaching back into our repertoire from the past 30 years and throwing song titles out. He absolutely knocked his audition out of the park."
Kevin began playing professionally at the age of 18 with Johnny and Jeanette Williams and then he and his twin brother Keith joined Carrie Hassler & Hard Rain. After traveling with Hassler for several years, he and Keith formed their own group, Still-House. In 2010, he was asked to travel for one weekend with Doyle Lawson & Quicksilver as their front of house audio engineer, a job that has lasted 11 years.
"What an absolute privilege and honor to be joining Russell Moore & IIIrd Tyme Out," says Kevin. "This being the band's 30th Anniversary is a testament to the true staying power and impact they've had on this music. Russell is one of the best vocalists bluegrass has ever had. And, it's been a while since I've shared the stage with my brother and I'm really excited about it! I'm so thankful to Doyle for how he's helped me grow and mature in this industry, and for everything he's done for my family. You'll still see me out on the road with Quicksilver when I'm not traveling with IIIrd Tyme Out." Kevin's first appearance with Russell Moore & IIIrd Tyme Out will be May 22nd at Ponderosa Pines in Manchester, KY.
Russell Moore & IIIrd Tyme Out are one of bluegrass music's most-awarded touring bands with over 50 industry accolades to their credit. In 2019, Moore received his 6th Male Vocalist of the Year award from the International Bluegrass Music Association, maintaining the record as their most awarded in that category. With 18 albums and plenty of miles under his belt, Moore is optimistic about celebrating the band's third decade post-pandemic. "If I've learned one thing from this past year of being off the road, it's that I miss it and love it more than ever. I'm excited to get back at it and see the many friends and fans we've made since 1991!"