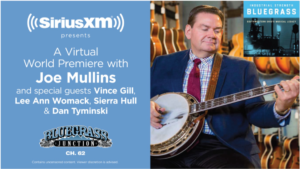 We have your chance to attend a VIRTUAL World Premiere with Joe Mullins and special guests Vince Gill, Lee Ann Womack, Sierra Hull and Dan Tyminski on February 18th via Zoom! Details below for your chance to be a part of this virtual event.
HOW TO GET YOUR CHANCE
EMAIL 

[email protected]

INCLUDE "Joe Mullins" in the subject line of the email and include your full name, valid email, and cell phone number in the email.
All requests must be received by 1pm ET on February 17th. The first forty (40) eligible responders will have their chance to be a part of this Virtual Event on February 18, 2021.
Must be a U.S resident least 18 years of age to participate. Incomplete responses are ineligible to be selected. Limit one participant per household. Only winners will be notified via email.