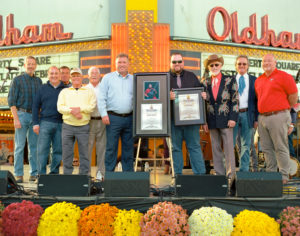 During an annual event honoring their rich bluegrass heritage, Liberty Square: A Lester Flatt Celebration, the City of Sparta, Tennessee recognized the achievements of Josh Swift by inducting him into their Bluegrass Hall of Fame. 
 
Sparta, Tennessee's Bluegrass Hall of Fame was launched in 2009 with the induction of Lester Flatt, Benny Martin, and Blake Williams, all world-wide known musicians who have counted Sparta as their hometown. The focus of the Hall of Fame is to recognize those with a distinguished career in bluegrass music, including accomplishments and contributions to the heritage of bluegrass music which have brought honor and recognition to both themselves and to the City of Sparta, Tennessee.
 
Swift, a fourth generation resident of Sparta and White County, Tennessee, was raised in a musical family, performing alongside his parents in the gospel arena prior to launching a professional career in bluegrass. He toured several years with groups such as Set Apart and Carrie Hassler & Hard Rain before becoming a member of Doyle Lawson & Quicksilver, one of the most revered artists in bluegrass music. In addition to performing full time with Quicksilver, Swift is Lawson's band leader, has his own Signature Series Model of Resophonic Guitars with Beard Guitars, is the International Bluegrass Music Association's (IBMA) 2017 Dobro Player of the Year, and owns and operates Cowbell Fever Recording Studios where he has produced, engineered, and performed on many nationally and internationally distributed albums reaching award-winning status, including two GRAMMY® nominations. 
 
Taking part in the Bluegrass Hall of Fame induction were Sparta's Mayor, Jeff Young, Alderman Jim Floyd, Hoyt Jones, and Jerry Lowery, and White County Executive Denny Wayne Robinson. Representing the bluegrass community were IBMA Director Paul Schiminger, Blake Williams, and Doyle Lawson. 
 
For more information on the Sparta, Tennessee Bluegrass Hall of Fame, visit www.SpartaTN.gov. For more on Liberty Square: A Lester Flatt Celebration, visit www.SpartaTN.gov/LesterFlatt.