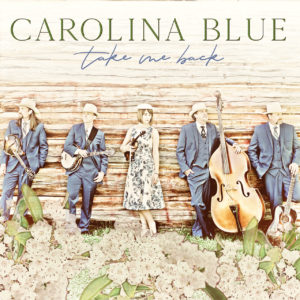 Billy Blue Records proudly announces the forthcoming release of Take Me Back, the label debut from Carolina Blue, winners of the 2020 SPBGMA (Society for the Preservation of Bluegrass Music of America) Entertainers of The Year award.
With this follow-up to their highly successful 2018 project, I Hear Bluegrass Calling Me, the North Carolina based band is already having huge success with the first single from the new album. "Grown Cold" debuted at #3 on the Bluegrass Today singles chart, and includes an entertaining lyric video.
From the infectious up-tempo "Grown Cold" to the beautifully plaintive ballad "Blue Grass," Take Me Back is packed with twelve new songs – eight of which were contributed by co-founders Timmy Jones and Bobby Powell.
"This album was so much fun to create," Powell says. "We are proud that it is full of our original songs, which has become sort of our trademark, and the material we chose from outside writers is top notch. I think the rest of the guys (and gal!) did some of the best playing and singing that they've ever done on this project. Special thanks to Jerry Salley and the great team at Billy Blue Records for their outstanding effort as well. I hope the listeners will enjoy this record for a long, long time!"
Jones and Powell started Carolina Blue in 2007, and since then, the band has grown into one of the most popular bands in the bluegrass genre –  as evidenced by their FOUR (4) 2020 SPBGMA wins (Entertainers of the Year – Bluegrass Band of the Year (Overall) – Vocal Group of the Year – Album of the Year – I Hear Bluegrass Calling Me), and THREE (3) 2019 IBMA (International Bluegrass Music Association) nominations (Album of the Year – I Hear Bluegrass Calling Me – New Artist of the Year – Instrumental Recording – "Fried Taters and Onions").
In addition to Timmy Jones (Mandolin and Vocals) and Bobby Powell (Guitar and Vocals), the band consists of Aynsley Porchak (Fiddle – a former Canadian AND American Grand Masters Fiddle Champion  and winner of IBMA's 2018 Momentum Award), James McDowell (Banjo), and Reese Combs (Bass and Vocals).